Aristeia Outfit. The new look of Miyamoto
By Gutier Lusquiños (Interruptor)
"Miyamoto surprised everyone when he appeared on the Omadon Arena with a hat that partially covered his face. An homage to his original's years of wandering. The semi-finals of the Aristos Global Championship were being held, one of the most important competitions of the circuit, reserved to the Aristeia! elite and what the participants wore would be trend next season."
Excerpt from the "Gods of the Arena" documentary. Enjoy it on Zirconium!
If there is an iconic Infinity trooper, that is attractive because of its charisma, is Miyamoto Mushashi. This mercenary is the Recreation of the legendary kenjutsu master that, after a career as sport fighter in Aristeia! broke free from ALEPH's control, becoming a fugitive that sells his skills to the highest bidder.
Miyamoto, whom after his Recreation by ALEPH, saw his last name subtly modified from "Musashi" to "Mushashi" due to concerns from the AI about legal issues. However, he kept the martial prowess of his original, something that is shown by his Troop Profile, still being one of the most lethal CC characters in the whole game.
As a miniature, Miyamoto also is among the best sellers, a figure from 2006 but still is one of the favorites of the player community. Without a doubt this is something great, but us, here at CB, we wanted to apply the new modelling style and the current quality standards to this charismatic character.
However, when you have a miniature that is both liked and also fulfills the gaming needs, you cannot just withdraw it. It was not a good idea to make a re-sculpt that would replace the already existing miniature, because we knew that it would be something that would make both community members and distributors sad.
So we just decided to make an alternative version. This would mean a double risk for us, if the miniature would come out bad, it would not sell, because it would have the old one as a competitor. And if it would end up being very good, it would take sales from the old one, at least among the new buyers.
From a commercial stand point, it did not seem to be a better option, we could opt for releasing other miniature that didn't suppose any of those risks. But, you know what? We wanted another Miyamoto, damn it! We are on this business because we love miniatures!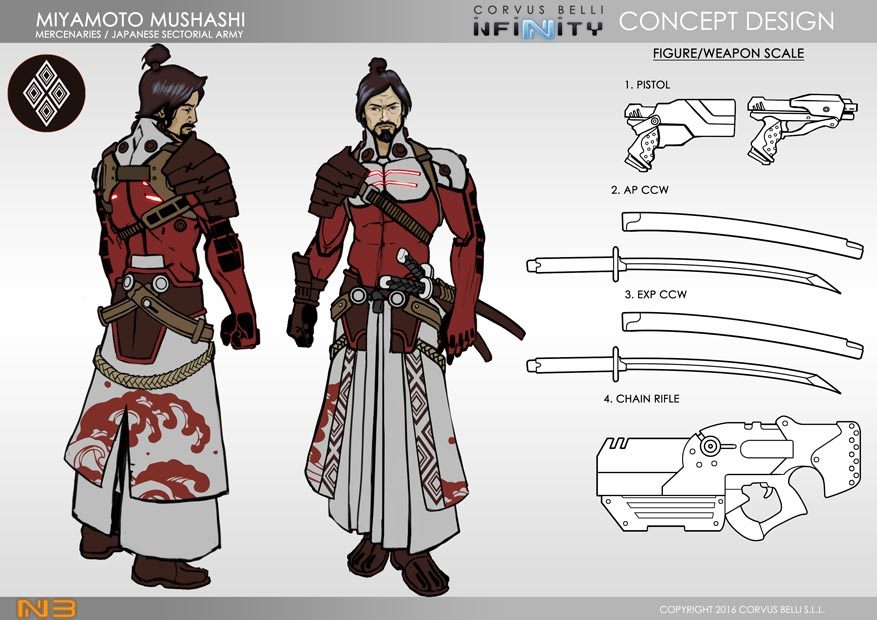 So I was asked what would be a good excuse to release another Miyamoto. And for me it was crystal clear: we only had to dive into our character's past to find the leitmotiv for the new figure. Its past as an Aristeia! fighter! Recreating Miyamoto's look when he won his last championship, before becoming a rogue AI. Also it would give Carlos Torres, our lead graphic designer, the opportunity to combine traditional Japanese clothing with other more futuristic sport elements. Sold!
But the difficulties ridden journey would not end here. You will probably ask yourselves, why a box with two miniatures, instead of a blister with just one? Our initial intention was to make just one miniature, but we knew Carlos Torres' enthusiasm, whom, apart from being lead graphic designer is also head of sculpting. Carlos showed us a design with an alternative head, with the hat, and told us that the body position of the miniature would allow to include a second set of arms…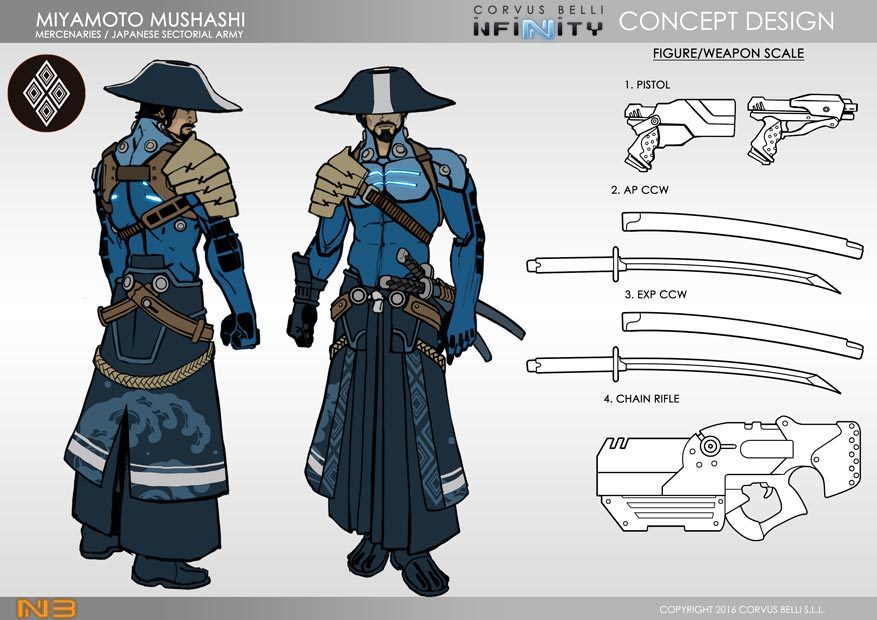 This proposal meant that we had now a two miniature box, variants of another already existing one on the range. All the risks that I talked about before, but doubled now. From a business stand point: more risk, bad idea!
But the variants looked so good! They deserved entering on the Infinity range. So we decided to press onwards with the idea, and release the box. We knew it would work, it had to! We knew that the community would respond and buy it. Why? Well, because we would be the first ones to buy that box. As I told you, here, at CB, we are like you, we love miniatures!